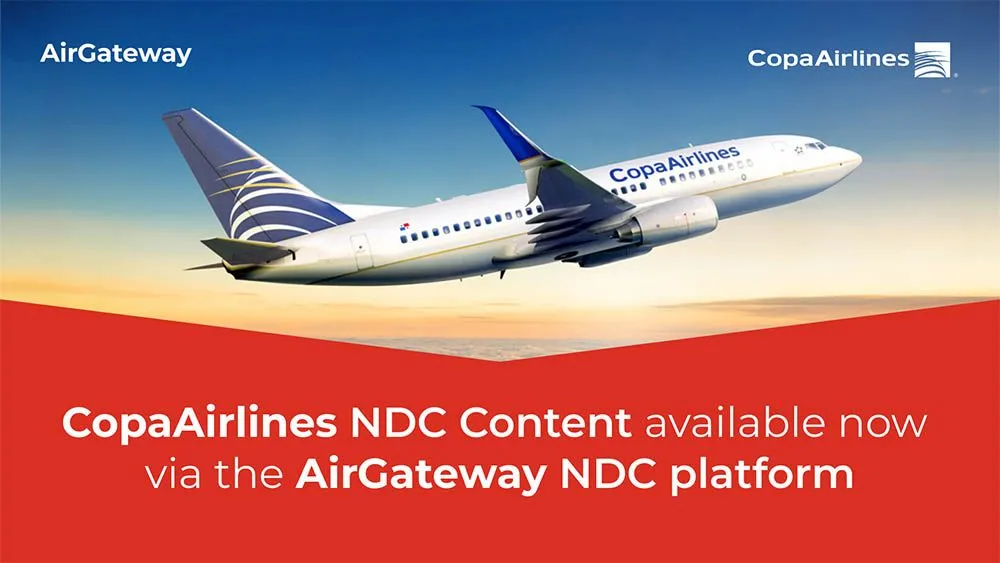 Copa Airlines NDC content now available on AirGateway's aggregation platform
Copa Airlines and AirGateway today announced their NDC partnership. Copa NDC content will be accessible to IATA-authorized travel agencies that have a direct commercial relationship with the carrier through the AirGateway platform.
AirGateway offers an aggregated API and an Agent Desktop solution that both allow for shopping, booking and servicing of flights and ancillaries (voiding, cancel and refunds, rebooking and airline disruption management) on one single screen and with instant confirmation of any action by the airline NDC system.
In addition, AirGateway enables downstream processes for accounting and tax information of all NDC bookings to be transmitted to the finance modules in the agency back office.
This partnership expands our NDC content offering in the LATAM region. It allows us to provide an Agent Desktop alternative to those agencies that are embracing the new airline distribution paradigm that has been massively adopted by FSCs all around the globe. Of course we will continue adding more content as more airlines become NDC-ready.
said Jorge Díaz, CEO at AirGateway.
In addition to searching, comparing and booking flights, agents will be able to fully service NDC content from Copa plus another 25 airlines on a single platform that offers both API and web interfaces.
For AirGateway this is another important milestone towards its goal of making the largest collection of NDC content available to managed and unmanaged travel companies and further strengthens its position in the LATAM region.
About AirGateway
AirGateway is a Berlin-based travel tech company and one of the leading IATA NDC (New Distribution Capability) aggregators. It is directly connected to more than 25 airlines, serving more than 200 IATA-accredited agencies in more than 15 countries both via API and an end-to-end Agent Desktop solution.
The AirGateway open platform also allows other partners such as booking tools, travel mobile app providers, traveler profile management tools, reporting tools or mid/back office systems to participate in the NDC value proposition, facilitating easy transition of all its legacy processes to the agencies.
Consolidators, TMCs, or OTAs looking for a reliable NDC partner and guidance can contact: sales@AirGateway.com