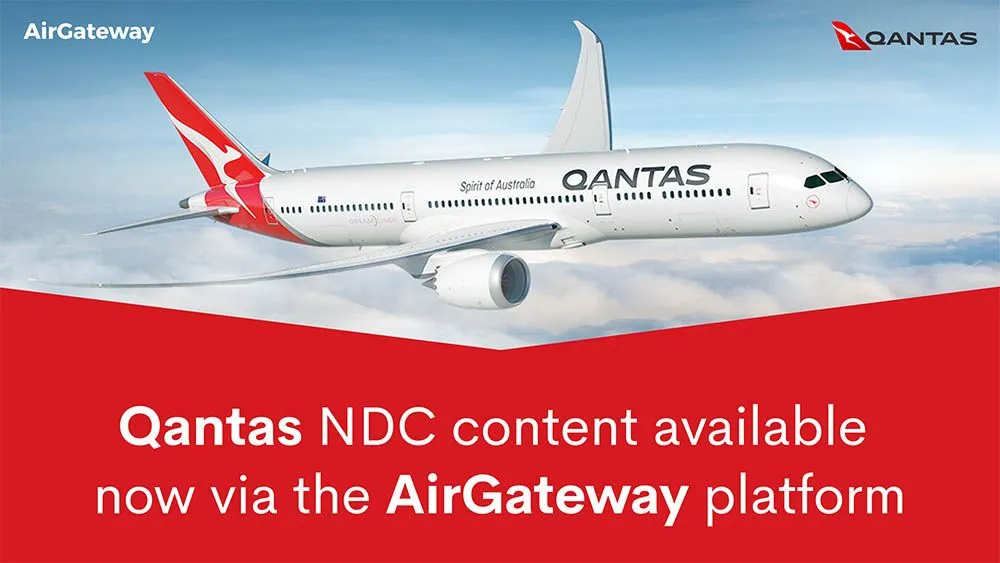 Australian carrier Qantas' NDC content is now live on the AirGateway platform
AirGateway announced today that they will make Qantas NDC content available on AirGateway's distribution platform via the Qantas Distribution Platform. IATA-authorized Travel Agencies that have a direct commercial relationship with Qantas, through the Qantas Distribution Platform, will be able to undertake flight and ancillary shopping, booking and servicing through AirGateway's aggregated API and Agent Desktop solution which offers an intuitive single screen user interface, instant confirmation and accounting data downstream processes to agency in-house systems.
"As the global airline content aggregator that is AirGateway, it is important for us to reach collaboration agreements with all major global carriers, like Qantas, the largest airline in the Australasia region. I think this technology partnership underlines our ambitions to implement NDC-enabled distribution capabilities for any player that wants to partner with us"
said Jorge Díaz, CEO at AirGateway.
Qantas Executive Manager, Global Sales & Distribution Igor Kwiatkowski said
"Our agency and technology partners like AirGateway are a key part of the expansion of our NDC program. As we continue to launch new features through the Qantas Distribution Platform, this partnership will enable us to deliver special offers, richer content, and a better booking experience to more of our customers and agency partners."
In addition to Qantas NDC content, connected agents will be able to search, compare, book and fully service flights and products from another 25 airlines through the AirGateway API and web interfaces. The technology partnership brings AirGateway an important step closer to its goal of offering the largest amount of NDC content across all regions. For more on Qantas' NDC Program, visit qantas.com/qantasdistributionplatform
About Qantas
Founded in regional Queensland in 1920 – as Queensland and Northern Territory Aerial Services – Qantas has played a central role in the development of the Australian and international aviation industry. Today the Qantas Group is a diverse global aviation business, comprising Qantas Domestic, Qantas International, the Jetstar low-cost carrier group and Qantas Loyalty.
About AirGateway
AirGateway is a Berlin-based travel tech company and one of the leading IATA NDC (New Distribution Capability) aggregators. It is directly connected to more than 25 airlines, serving more than 200 IATA-accredited agencies in more than 15 countries both via API and an end-to-end Agent Desktop solution. The AirGateway platform also allows other partners such as booking tools, travel mobile app providers, traveler profile management tools, reporting tools or mid/back-office systems to participate in the NDC value proposition, facilitating easy transition of all its legacy processes to the agencies.
Consolidators, TMCs, or OTAs looking for a reliable NDC partner and guidance can contact: sales@AirGateway.com