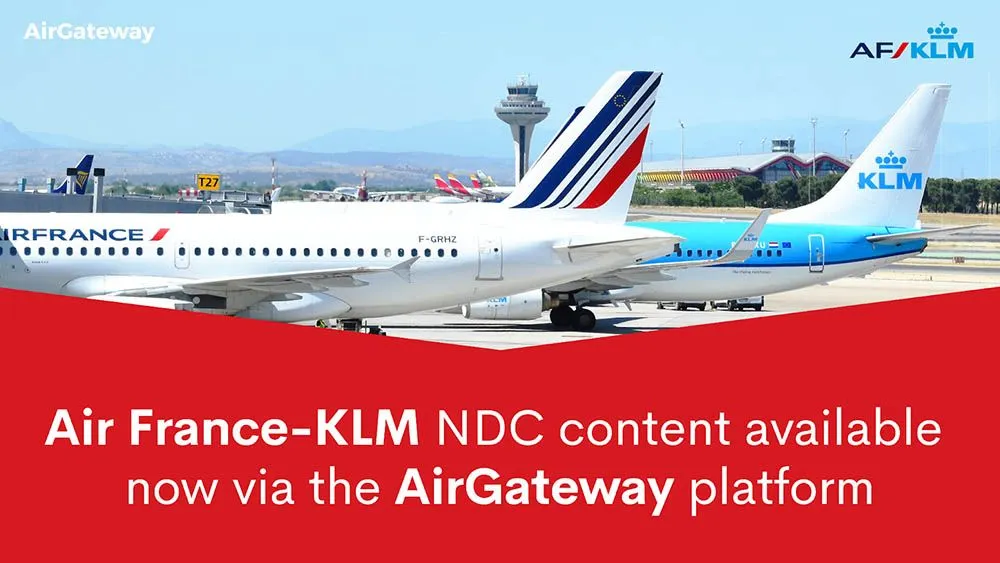 Air France / KLM NDC content is now available via AirGateway platform
Air France-KLM group and AirGateway are happy to announce their NDC partnership. This partnership enables AirGateway to distribute AF/KL NDC content through their platform for authorised IATA agencies that have a direct commercial relationship with the airline group.
This collaboration will allow us to complete the NDC content offering from the top European full-service airline groups that are strongly pushing for an NDC-based distribution industry which brings competition and innovation to it. Air France-KLM has made huge progress when it comes to NDC since their program launch in 2018.
says Jorge Díaz, CEO at AirGateway".
Air France KLM is proud to count AirGateway as the 8th aggregator to allow travel agencies to get access to NDC content, this new possibility to connect is confirming AF KLM policy to support NDC and focus on key players to enrich the possibilities of travel agencies to get access to AFKL exclusive offers only in NDC.
confirmed Stephane Ormand, VP distribution.
Agents will be able to search, compare, book, and fully service Air France-KLM NDC content among other 22 airlines in one single dual interface (API and WEB). AirGateway will also be enabling corporate travelers to book via NDC through all the tools that are integrated with AirGateway.
This is an important milestone for AirGateway in order to achieve the goal of offering the industry with the largest offering of NDC content while deepening in all its functionality making it suitable for managed and unmanaged travel companies.
About AirGateway
AirGateway is a Berlin-based travel tech company and one of the leading IATA NDC (New Distribution Capability) adopters/implementers that offers their service to travel sellers all around the World.
AirGateway enables, both via API and by an end-to-end Agent Desktop solution, travel agencies that want to adopt the new distribution model for the agency of the future.
TMCs, Consolidators or OTAs looking for a reliable NDC partner and guidance can contact AirGateway here: sales@AirGateway.com