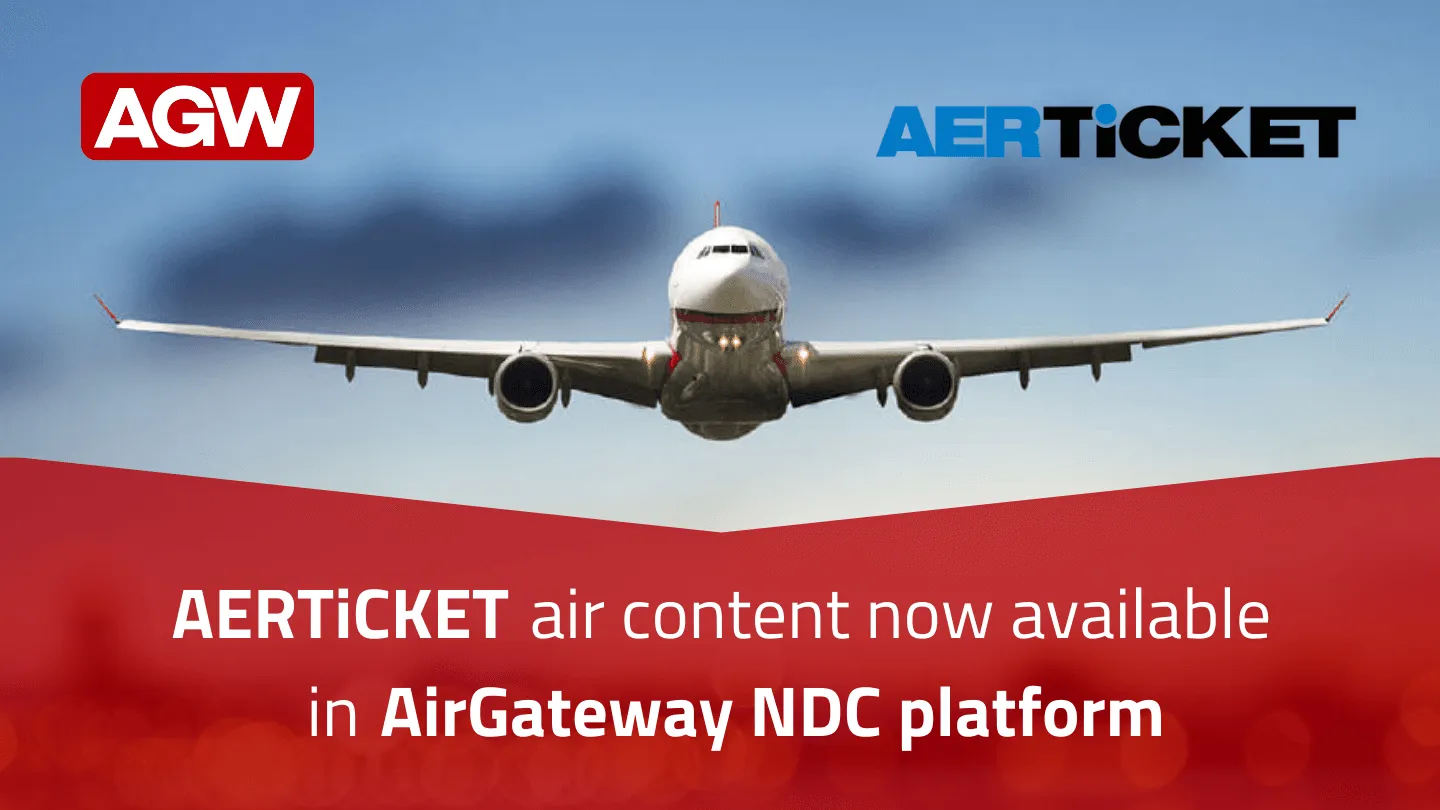 AERTiCKET content is now live in the AirGateway NDC platform
AirGateway takes pride in providing the most extensive NDC content on the market and we are thrilled to announce another innovative and forward-thinking content provider being released in our platform - AERTiCKET.
The partnership with AERTiCKET, the largest independent full-service consolidator in Europe, brings exclusive global content both into our Agent Desktop tool Bookingpad and the API. By adding AERTiCKET into the AirGateway NDC platform, we are now able to provide GDS, low-cost, and regional content with great fares to our customers around the globe. This move greatly increases the ability of onboarded partners and agencies to access content of their choice in Bookingpad and via our API, bringing convenient pricing and unparalleled functionalities even closer to them than before.
Jorge Díaz, CEO of AirGateway, comments on this partnership:
With the foreseeable end of the GDS-incentives era around the corner mainly due to direct distribution airline ambitions, high-quality consolidated content might become a very reasonable option even for IATA and corporate-faced agencies. For this reason, we have closed this long-term partnership with one of the biggest global consolidators like AERTiCKET which provides world-class GDS content from more than 102 points of sale. We expect this collaboration to help us to offer a wider range of content completing our globally-leading NDC offering.
Rainer Klee, AERTiCKET Group CEO emphasized:
AERTiCKET's investments in both content acquisition and technology resulted in creation of unmatched value proposition that is admired by our global clientele. As the market leader, we are happy to team up with AirGateway in offering the same to the proud users of their technology.
About AirGateway
AirGateway is a Berlin-based travel tech company and one of the leading IATA NDC (New Distribution Capability) aggregators. It is directly connected to more than 25 airlines, serving over 200 IATA-accredited agencies in more than 15 countries, both via API and an end-to-end Agent Desktop solution Bookingpad. AirGateway's open platform also allows other partners such as booking tools, travel mobile app providers, traveler profile management tools, reporting tools or mid/back office systems to participate in the NDC value proposition, facilitating the easy transition of all its legacy processes to the agencies. Consolidators, TMCs, or OTAs looking for a reliable NDC partner and guidance can contact: sales@AirGateway.com
About AERTiCKET
AERTiCKET is one of the largest air ticket wholesalers worldwide with over 1200 employees working at more than 40 locations around the globe and operating in more than 100 markets. For over 30 years, the company has been a competent and reliable partner for travel agencies, tour operators and OTAs. The Berlin-based company is characterized by competitive prices, first-class service, and the development of innovative booking technology. The AERTiCKET Group issues around 7 million tickets annually, and the consolidator's database contains more than 55 million airfares. Learn more at: www.aerticket.de/en
The combination of direct NDC content from airlines and the consolidated and aggregated content from our partners makes AirGateway the true central point for booking air tickets for Travel Agents around the world.
Get in touch with us to learn more at sales@airgateway.com